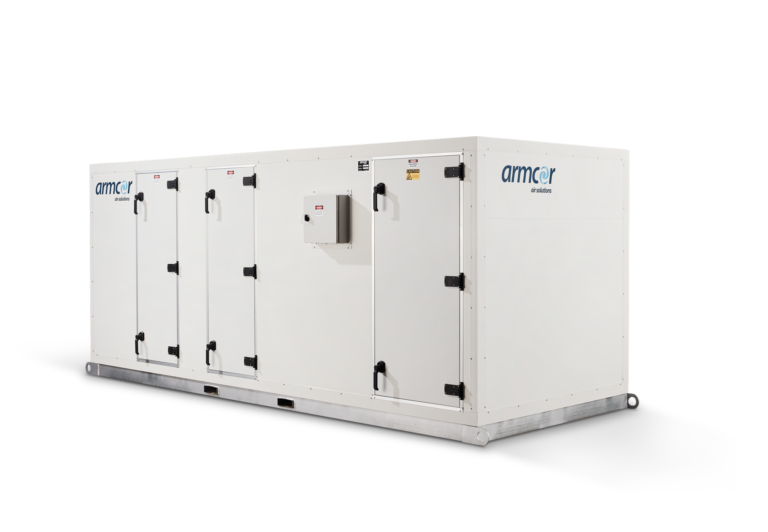 Air Handling Unit
AHU Air Handling Unit
Unit Details
Armcor are a leading air handling unit manufacturer in Australia. An air handling unit (AHU) is used to condition and circulate air as part of a heating, ventilating and air-conditioning (HVAC) system. The air entering an AHU usually passes through an air filter, across the heating/cooling coil and then the supply air fan, providing the correct volume and pressure or conditioned air to the ductwork system.
AHUs can incorporate a hot water coil, a chilled water coil, a DX coil refrigerant coil or a combination of these. Condensate drains are provided with the AHUs to capture the condensation formed through the cooling process. Specific controls are needed to turn on and off AHUs and these are often integrated with Building Management Systems (BMS).
The Armcor AHU design suits rooftop or plant room applications and are fully factory assembled and internally wired, and fitted with large access doors allowing for service, cleaning and maintenance.
Customisable options for the AHU
Armcor Air Solutions offer a variety of options with our AHU range. Our standard range caters for capacities of 500-25,000 l/sec. The additional options include:
Options include:
Hot water, Chilled water or DX coils
Air filters
Economy cycle dampers
For more information on the different options and specifications of Armcor's air handling units, take a look at our specifications table or download our above guides. Alternatively, if you would like to speak to one of our expert team members, you can contact us directly by filling out our online enquiry form or give us a call on 03 8301 9200 and we'd be happy to assist you in finding the right solution.
Disclaimer:
The data and information contained in Armcor Air Solution technical specification sheets are representative of expected performance. They are derived from aggregated specifications of the individual components used in the equipment and not from verified laboratory testing. This should only be used for evaluating your specific application and clients have the sole responsibility of satisfying themselves that the goods or services are suitable for any specific use
Specifications & Downloads
| Model No. | | Technical Specification | PDF Drawing |
| --- | --- | --- | --- |