How do we safely lift commercially big units?
How do we safely lift commercially big units?
Many ERVs are designed as part of HVAC systems to be installed on rooftops or accessible only by lifting the unit into position with a crane.
Contractors should only use reputable and experienced crane operators and consider all WHS requirements and safe work practices,  This includes, but is not limited to the following instructions.
Instructions:
Always use spreader bar.
DO NOT lift in dangerous or windy conditions.
Shackles to comply with AS2741-1192 table 6.
Shackles to be proof tested to 5 times W.L.L.
Never stand under the unit.
Test the unit for balance and support when 100mm off the ground.
DO NOT use chains. ALWAYS use slings. (Warranty void if chains are used).
Download the Lifting Instructions Brochure Here:
2021 Lifting Instructions Brochure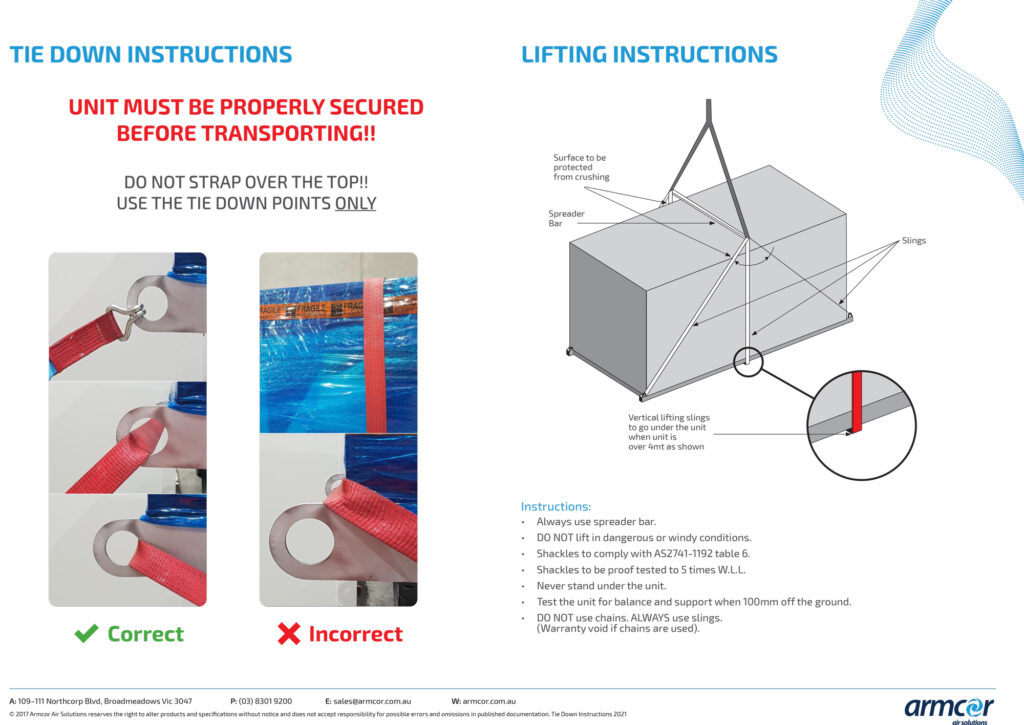 Disclaimer: The data and information contained in Armcor Air Solution technical specification sheets are representative of expected performance. They are derived from aggregated specifications of the individual components used in the equipment and not from verified laboratory testing. This should only be used for evaluating your specific application and clients have the sole responsibility of satisfying themselves that the goods or services are suitable for any specific use.